How to Choose Bridal Makeup 5 Key Tips!
Photo credit | This Modern Romance
Are you trying to decide how you will look at one of the most important days of your life? We'd love to help. In this article, we give you five infallible tips to look spectacular with How to Choose Bridal Makeup 5 Key Tips!. Bridal makeup is undoubtedly one of the key points for you to look spectacular on your wedding day. In addition to radiating happiness, How to Choose Bridal Makeup 5 Key Tips! will also help you to take advantage of your features by highlighting them to the fullest.
How to Choose Bridal Makeup 5 Key Tips!
In this article, we'll also let you know how to apply makeup or which professional makeup artist to entrust your beauty look too. This is not an easy thing, so if at this moment you have doubts and do not know how to choose your wedding makeup, continue reading because below we will tell you some infallible tips to that, once and for all, you can choose how you will look on one of the most important days of your life and get the best wedding makeup in How to Choose Bridal Makeup 5 Key Tips!
Think about the time and setting of the event
Combine bridal makeup with your look
Choose shades that flatter you
Define bridal makeup according to your face type
Give importance to prior preparation
Think About the Time and Setting of The Event
Photo credit | aandbebridalshop.com
Each bride has different taste and of course each venue where each wedding is celebrated is different too. Sometimes this goes unnoticed and we forget to take into account the setting where you will carry out the most important celebration of your life. You should think about what type of wedding you will have and choose your beauty look according to the environment of your wedding.
If your wedding is during the day, your look will be totally different from that of a night wedding. Bridal makeup is less ornate and more natural, features are defined less intensely and lighter shades are used for day weddings.
For a wedding that takes place at night you can use much stronger tones, make slanted eyes or smokey eyes, the lips should be more intense and although an elegant makeup should be sought, the makeup in general will stand out more than in a day wedding.
The starting point is the colors you will use since "these give rise to different effects in our image. They can both illuminate and dull the face, it all depends on how well they are used, " says Erika Hernández, professional makeup artist. Also keep in mind that "it is very important to choose the tones that favor you and that go according to the tone of your skin, hair and eyes, since only then can you feel comfortable" and therefore you can enjoy your wedding to the fullest.
Combine Bridal Makeup with Your Look
Photo credit | Laura Gordon Fine Art Wedding Photographer
Bridal firms offer us more and more options of wedding dresses so that each one can choose their style according to their personality and the style of their wedding. For this reason, we must choose bridal makeup according to the dress that we have chosen.
You can play with the balance and the importance that you want to give to every detail of your bridal look. For example, if you have chosen a dress with many details that is made of a voluminous fabric, you can compensate with a simple and natural makeup. If, on the other hand, you will be wearing a light fabric dress and few jewels, you can give more prominence to your bridal makeup, highlighting the eyes or adding color to the lips.
Choose Shades That Flatter You
Photo credit | elstilespb via Instagram
You may be wondering; how do I know which colors look good on me? For that there is colorimetry, since based on it you can choose the right tones, the only thing you should be very clear about is whether you are warm or cold. To know this, you need to comply with at least two points of each item:
Warm
Eyes: have yellow tones
Skin: usually tan
Hair: light brown, guero, red, orange, golden or orange rays or lights.
The colors that favor you are peach, salmon, yellow, brown, gold, ocher, caramel, ivory and beige.
Cold:
Eyes: no yellow
Skin: burns
Hair: black, brown, red, platinum, pastel colors.
The colors that favor you are dark blue, black, red, white, gray, lilac and purple.
For this reason, it is important to have a professional makeup artist, who not only cares about making face corrections, but who really has knowledge of color theory, in order to highlight the best of each bride.
Defining Bridal Makeup According to Your Face Type
Photo credit | Stephanie Sunderland Photography
The shape of your face should also be an important point to consider when choosing makeup for your wedding. Each type of face and features has a different makeup, depending on your features you should enhance or hide certain areas and makeup is the perfect ally to achieve this.
The oval face is the best of all. The oval face is considered the perfect face shape since any type of makeup suits this type, if you have the face in this way. You can dare with the most current trends. Although it is best to naturally highlight your beauty, brighten the nose and chin and. Enhance the cheekbones by using bronzing powder on the line that marks the cheek. As for the lips, you can use the colour that you like the most, always taking into account your skin tone. You can dare with different trends. Highlight your natural beauty. Brighten the cheekbones and the nose, forehead and chin area and darken the cheekbones. For the lips, you can choose any shade.
If your face is triangular, that is, the forehead and jaw are wide and the chin more pointed. You should soften those features and use shadows and lights to hide the most prominent areas. When applying lipstick, do so with upward strokes as this will help soften the face.
If you have a square face, you will be characterized by having a fairly wide jaw and forehead. You should try to refine the face and soften the most pronounced areas. The eyes light up and take centre stage, while the lips are made up in softer tones to hide the width of the jaw.
If your face is longer, you will have a very thin chin. You should try to add width to your face, for this. You can play with shadows and lights and make up the lips in a strong tone to make this area of the face appear wider.
Give Importance to Prior Preparation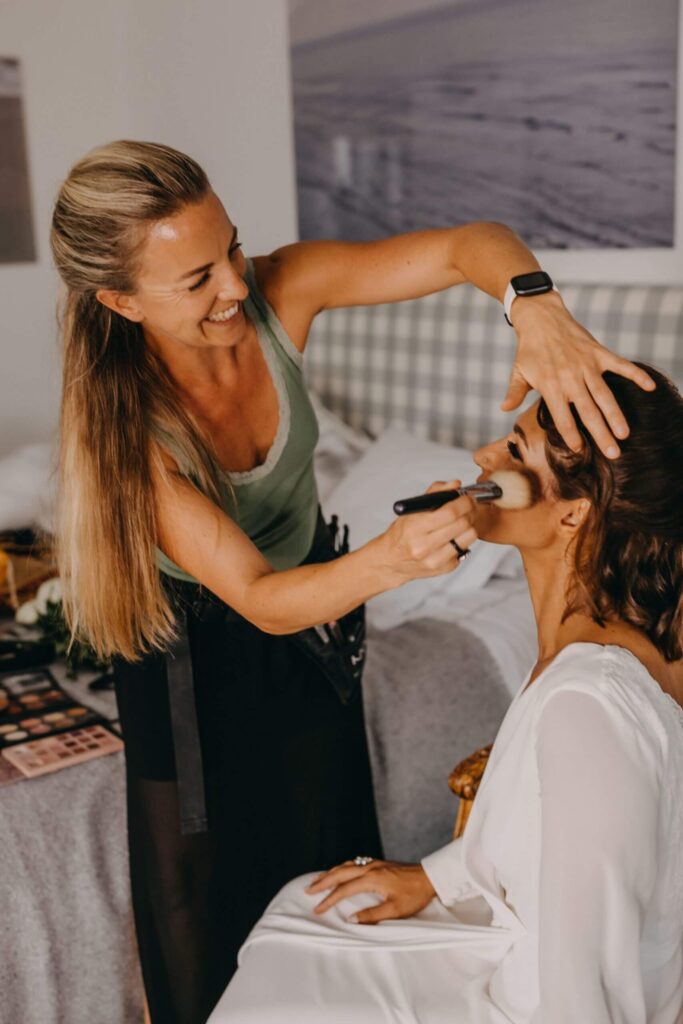 Do preliminary research, look for trends that you like, save photos of what you would like to wear on your big day. In this way, the person doing your makeup will be able to understand the idea you have. It is very important to work with professionals. the day of your wedding will remain in your memory forever and even if you know your face very well and how to do it. A professional makeup artist will always know how to get much more out of you and make your makeup last much longer. weather.
Take a trial before the big day. Ask for recommendations, research the best makeup artists in the area where you will have your wedding. Make an appointment and do a previous test to see how the makeup you have chosen will look. It may be that when doing the test, you realize that the tones are not adequate or that you do not feel as comfortable. And by doing a previous test you will have time to change and make different decisions without risking.
Finally, do not forget that you must choose if you will put more emphasis on the mouth or the eyes since it is advisable to have a single point of attention. Now you just need to analyze your colourimetry and start doing makeup trials as soon as possible.
Please note the mobile makeup artist will charge the travel fee on the trial day and on the wedding day. If you go to their salon or houses you don't have to pay this fee.