TOP WEDDING PLANNER IN Spain, MARBELLA & AROUND THE WORLD
Exclusivity, design and elegance are the foundations for the work of our team of wedding and events planners in Marbella.
We love our work...
We love being wedding planners.
Hello! We are the Wedding planner in Spain, Malaga that you were looking for. It would be our biggest pleasure to help you and make your dream wedding come true.
We would love to meet you! The job of our event planners in Marbella is to take your wedding to the next level.
Our passion is to create AMAZING events for each of our clients; also we want your planning experience to be fun, exciting and stress free. We will work on and on to create a beautiful and unforgettable experience that you and your guests will remain talking about for years to come.
Without anything else to add, here it is our team of wedding planner in Marbella.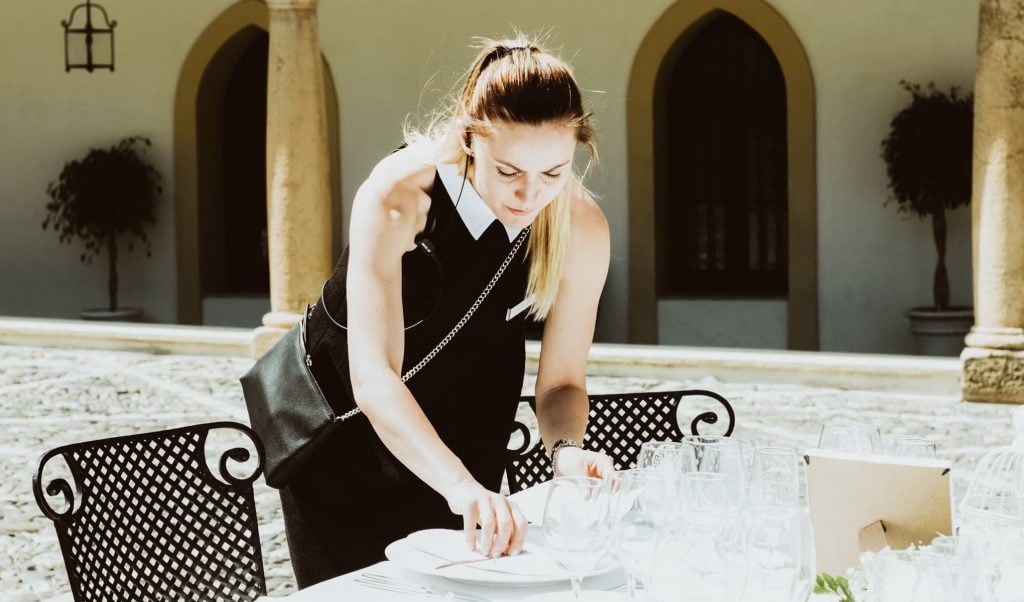 Her love for weddings started at a young age helping her mom organizing weddings, some
years before she got to live that dream and today she plans beautiful events for her clients.
She was born and raised in Romania; she settled in Spain for the past 17 years, she can
speak Romanian, English, Spanish, and a little bit of both French and Italian. She firmly
believes in the importance of showing people love and making them feel welcomed to
Marbella. Her experience in Advertising, Marketing & Event Planning will provide a
unique wedding and surprised you with little details.
Anastasiia Zhyrnova​
Wedding Planners in Marbella

Anastasiia is the most versatile partner in the team, even though her studies were evoked to foreign trade. Her most romantic side introduced her to the world of weddings; she is extremely tidy with processes and numbers. But don't be confused, behind that technicality there is an incredibly creative person. She loves art history and her hobby is watercolor painting. Without a doubt she is the right person to organize an event of any magnitude.

Languages: Spanish, Ukrainian, German, Russian, English.
Agata Bykovskaja​
Wedding Planner in Malaga

After finishing Marketing and Advertising studies, Agata had the opportunity to gain her main experience in the industries of beauty and luxury fashion. Marketing unique products and services, she broadened her skills in various creative fields; unique designs solutions and events management. "All those little details matter" - is definitely Agata's motto! She always pays the highest attention to quality and to the smallest things, guaranteeing the most beautiful ideas for your celebration. You can be sure that she will do all of her best to make your Wedding or any other Event unforgettable!
Languages: Lithuanian, Polish, Russian, English.
Do you need a wedding planner in spain?
Let me show you everything I can do for you !!
From a comprehensive organization, to a small but reassuring call which will clarify everything you need for your wedding day.
Referents at Wedding planners in Spain
Talk to us and we will show you why we are your best choice as wedding planners in Spain for your special day.
Our biggest honor is to help you making the wedding of your dreams, to come true. We hope you can trust us! Also our trajectory and consequent work has led us to be in uncountable media and reference portals in the weddings and event planners section in Marbella. We know that we do a great job in weddings and we will do our best to make your day better. Our job is to make our best as event planners in Marbella for you and your loved ones.
UK Bridal Directory
We will be answering to any questions you have about our work. 
Please fill in the form.
You probably have a lot of questions that you would like to ask to your wedding planner in Spain.
If you are thinking of hiring a wedding planner in Spain, you will have questions. That is the reason why we have created this section.
If you are thinking of hiring a wedding planner in Spain, you will have questions, questions and a lot of uncertainty. That is the reason we have done this section. Questions like; what should I expect from my wedding planner in Spain? Or is it the same to hire a wedding planner in Malaga as to hire one in Marbella? And many more are the ones that we always receive. Here we leave you the answers to your questions.