The Top 10 Wedding Styles of The Year
Discover the most popular wedding styles of the year and find inspiration for your dream wedding!
Finding the right wedding style is no easy task. Most Wanted 10 Wedding Styles. So, if you've not decided on one yet, have no worries, you are not alone. Here's a list of the top ten wedding styles that couples love. You will surely find one that appeals to you here
10 Wedding Styles, Which One Is Yours?
You could go with classic, modern, romantic, bohemian, vintage, urban or why not eco-friendly? … How would you define yourself as a couple? Surely there is a style that could define you. One with which you feel identifying in many aspects. Be it your way of dressing, decorating your home, or your tastes in general. Most Wanted 10 Wedding Styles. And in case you doubting it, there is also a wedding style with which you will feel identifying. If you don't know which one, we are going to help you find out by describing the most popular.
It is very important to define the style of the wedding before starting, it will guide you in many aspects and will mark the way you take many decisions. You will find that it affects how you handle aspects of your preparation such as the palette colour, decoration of the tables, the space, the design of the invitations. It will even affect the kind of flowers that will decorate the entire wedding. So, we are going to show you ten different wedding styles so you can find out which one is the best for you.
Classic wedding

Credit: Jaimee Morse Photography
A classical wedding is a traditional celebration that exudes elegance, sophistication, and timelessness. It is a style that has been popular for decades and is a perfect choice for couples who appreciate the traditional and formal aspect of a wedding. When it comes to a classical wedding, the décor is all about white tones dominating in all aspects of decoration. Roses play a very important role in flower arrangements, and they are often paired with other classic blooms like lilies, peonies, and hydrangeas. The end result is a beautiful, timeless display of floral arrangements that perfectly complement the bride and groom's attire.
When it comes to the color palette, the most identifying colors of a classical wedding are the eternal white combined with dusty pinks above all, but also with some pastel tones like blue and peach. This color palette creates a soft, romantic atmosphere that is perfect for a classic wedding. The bride and groom's attire also matches the style of the wedding. The bride's dress is often a classic princess-cut wedding dress with intricate details and a long train. A cathedral-style veil is a popular choice to complete the bride's look. For the groom, the most common attire in this style is a morning suit with a black or dark frock coat. This style is perfect for a formal and traditional wedding ceremony.
In terms of the ceremony, a classical wedding is often held in a church or other religious setting. The ceremony is formal, and protocol is usually followed to the letter. The bride walks down the aisle to traditional wedding music, and the couple exchanges vows in a heartfelt ceremony. After the ceremony, the reception is held in a formal setting with classic centerpieces and fine china. The food is often a formal, multi-course meal that reflects the elegance and sophistication of the classical style.
In conclusion, a classical wedding is the perfect choice for couples who want to celebrate their special day with timeless elegance and sophistication. With its beautiful floral arrangements, soft color palette, and formal attire, a classical wedding will create memories that will last a lifetime.
Romantic style
Credit: Photography White on Black studio
A romantic wedding is the perfect fairy tale come to life. This style is all about love and attention to detail, with an abundance of flowers such as roses or peonies. Warm and pastel tones are commonly used, along with a lot of white throughout the wedding to create a soft and dreamy atmosphere. Candles and warm lights are essential to achieve a cozy atmosphere, especially for evening weddings.
The bride's dress should be delicate and romantic, with lace or other soft fabrics to complete the look. For the groom, a navy blue or beige suit would be the perfect complement to this romantic style. It's important to pay attention to the little details, such as delicate ribbons and lace accents, to create the perfect romantic ambiance.
In terms of decor, this style is all about softness and femininity. Think floral centerpieces, delicate lace table runners, and pastel-colored accents. A romantic wedding is also a great opportunity to play with textures and fabrics, such as velvet and silk.
When it comes to choosing the perfect venue for a romantic wedding, outdoor settings such as gardens or vineyards are ideal. These locations provide a natural and romantic backdrop that can be enhanced with the right decor. However, indoor venues can also be transformed into a romantic paradise with the right lighting and decor elements.
Overall, a romantic wedding is all about creating a magical and enchanting experience for the couple and their guests. With attention to detail and a focus on creating a dreamy atmosphere, a romantic wedding is sure to be a cherished memory for years to come.
Vintage mood
Credit: Eden willow photography
This style allows us to transport ourselves to times like the twenties, thirties or fifties through vintage decoration.
Vintage weddings are all about embracing the charm of the past. The furniture and decor are typically antique, with a focus on dusty colors such as pale pink or yellow, as well as earthy tones that have an aged appearance. To achieve this effect, restored furniture is often used, and the decoration is completed with elements from bygone eras, such as old typewriters and vintage suitcases. Flowers that evoke a certain aged air, such as dried flowers or wildflowers, are also popular choices.
When it comes to attire, vintage weddings offer a great opportunity to incorporate family heirlooms. Brides may choose to wear a vintage wedding dress handed down from a parent, grandparent, or other relative. Alternatively, modern dresses with vintage-inspired cuts, shapes, or details can be chosen to create a retro look. The color palette for the bride's dress should typically feature white or nude shades.
Grooms can also get in on the vintage look with a variety of options. Earth tones, bluish hues, black, and gray are all popular choices for suits. Some grooms may choose to forgo the tie, or even opt for a shirt and vest for a more relaxed, informal feel. Ultimately, the key to achieving a successful vintage wedding is to pay attention to the details, creating an atmosphere that transports guests to a bygone era while still feeling authentic and personal to the couple.
Rustic and nature
Credit: Stefano-Santucci
For nature lovers and green and natural landscapes. A farm with outdoor spaces where you can hold an outdoor banquet is ideal for this style. Earth tones and natural elements such as jute and wood, or even pieces of logs, predominate. The straw and wildflower seats blend in perfectly with the rest of the greenery and wooden wedding furniture.
In this case, the bride can opt for a simple dress, without many details or a very ornate one with very flowy and comfortable fabrics. Most Wanted 10 Wedding Styles. She could even wear a two-piece with colors such as white, pastel pink, nude, or combined with each other. The groom's look can be highlighting by accessories such as suspenders or vests and it is likely that he will choose softer fabric trousers in brown or gray.
Shabby Chic

Credit: Whitney Furst Photography
Shabby chic, born in the era of the great country houses of Great Britain, consists mainly of mixing old with modern elements. It literally means worn and sophisticating, which is why classic worn finish pieces are an icon of his style.
One of the clear differences between Shabby Chic and vintage is the romantic and feminine touch in the decorations, where soft colours and floral motifs dominate, whether they are natural, printing on textiles, on tableware.
Flowers are undoubtedly a must in this decorative style where the romantic and the feminine go hand in hand. Its color palette has white as its basic tone, and is complementing by touches of color such as pale pink, aqua green, mint green, turquoise blue or lavender tones. In the decoration, we will find elements such as white wrought iron chairs with a romantic air combining to perfection with wooden pieces and retro metallic details until a classic elegance is achieved.
The bride can be inspired by romantic dresses with lace, especially floral but very flowing shapes, and complete her look with a bouquet of peonies. The groom can choose a classic suit, but in this case, with light colors such as sky blue or nude or beige tones.
Urban and modern
Credit: Rachel Rowland
For couples who are urbanites at heart and are looking for a wedding style that reflects their love for city life, an urban chic wedding is the perfect choice. This type of wedding is characterized by a modern and sophisticated atmosphere that highlights the beauty of the cityscape.
Instead of traditional rural settings, an urban chic wedding is usually held on the rooftop of a stylish hotel or a modern industrial space. Glass elements, such as windows and mirrors, are incorporated into the decoration to create an elegant and chic atmosphere. Warm lighting, including candles and string lights, add a touch of coziness to the urban setting.
Flowers are also an important element of an urban chic wedding, but they are often used in more subtle and minimalist ways. The color scheme typically features neutral shades like black, white, and gray, combined with warm tones like pink and gold. The bride can choose an avant-garde dress that reflects the modern style of the wedding, while the groom can opt for a cosmopolitan look.
Whether you're planning a city wedding or simply love the idea of celebrating your love in an urban setting, an urban chic wedding is a stylish and sophisticated choice that is sure to leave a lasting impression on your guests.
Boho Chic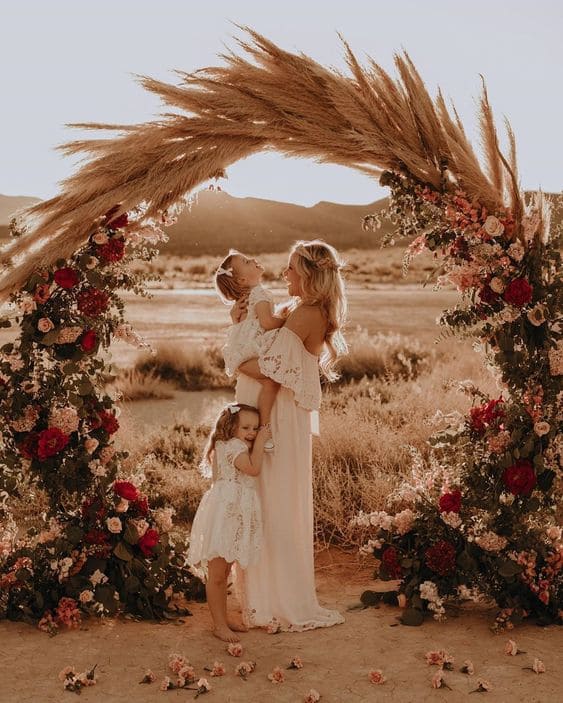 Credit: The light and the Love
Boho Chic is a variant of the bohemian style, but nuanced by elegant and sophisticated elements (that's where the Chic comes from). A term that was born in the 21st century on the catwalk in the world of fashion, inspiring by the bohemian and hippie airs of the moment. It has passing to weddings extolling romance and giving great importance to the feeling of freedom for unconventional weddings.
The decorations for this wedding are basing on natural elements, textures and a wide variety of generally intense, cheerful and vibrant colors. They are combining with white or ecru to create atmospheres with a unique energy.
Natural elements and ethnic motifs cannot be absent, which together with wood, leather, vegetable fibres. And a myriad of cushions, rugs and puffs, or a DIY macramé curtain, are the must of this style. A fusion of cultures and times where the hippy, the ethnic and the oriental coexist naturally creating unique and very personal environments that reflect the cheerful personality of the couple.
Because her look should also go according to style, the bride will opt for flowing dresses, fluid fabrics and a more vintage style. She could also choose to go with a crop top and a long skirt that will make her look out of the ordinary. The groom can have his casual suit, he will opt for gray, blue or even more colorful tones depending on his personality. Some even dare to wear a tie stamping with some striking motif.
Industrial style

Credit: Lindsay Hackney
Although its nature is eminently urban, the industrial style has a very defining and characteristic style. That dates back to the 1950s in New York. To achieve a wedding in the purest industrial style, it is time to leave the farms and gardens behind to make way for a completely different scenario.
Brick walls, exposed pipes, ceiling beams and iron or concrete columns are the quintessential materials of this style. Without these, common in factory buildings, it is difficult to understand the industrial style. For an industrial wedding the ideal is an interior space without divisions, such as a factory or a warehouse.
The best time to celebrate this wedding would be in the afternoon since lighting plays a fundamental role. Strips of light bulbs, suspended cables, illuminating signs or candles placing on chandeliers made of pipes or other metallic material. Are essential that will help achieve a cozy and pleasant environment.
Themed Wedding
Credit: Caca-Santoro
For those couples who share a hobby, a series, or who are simply "geeks" together about something and that characterizes them as a couple. A themed wedding is a personalized wedding. In this wedding, there is a "theme" and a common thread from which everything comes out.
It could be a wedding for a traveling couple, with a decoration full of suitcases and destinations. Or one that takes us back to the 1920s and in the purest Gatsby style with a decoration full of feathers and pearls.
These are some examples of themed weddings, in them, there is no establishing color palette, nor standard decorations. Every detail tells a story and has meaning and meaning. The decoration is very important since it will be the cause of transforming the wedding spaces and making the guests live an entire experience. As we see, themed weddings are very personal, in it the personality of the couple, and this will also be reflected in their looks. In this case, the style of the wedding is set by the bride and groom, and therefore, their clothing as well.
Eco Friendly
With eco friendly weddings, couples discovered some ideas to make their wedding respectful and committing to the environment. Now more than ever, the Eco-Friendly concept is present day by day in our lives. From recycling to the extreme reduction of plastic use at your wedding. But what is an Eco-Friendly wedding?
Well, the Eco-Friendly concept comes to be what we always call "Ecological" or "Respectful with the environment." An Eco-Friendly wedding is precisely about a wedding that respects the environment and is in harmony with it. It is a wedding where the natural prevails, eradicating, almost completely, the artificial, and what can cause some type of direct or indirect damage to the planet.
So these are the 10 most wanted wedding styles for your wedding destination,but from our experience you cannot miss the following one, here we leave one more style as a bonus.
Luxury Style

Credit: Jana Williams Photography
So you decided to hold a luxury wedding to impress your guests? Wow, this is amazing, one of my favorite wedding style so far.
As for the place, when we talk about a luxury wedding it is not only necessary to choose a dream place with idyllic landscapes, but also to offer a transportation service if it is locating many kilometres from the city. Choose nude colors, gold decoration and details, chandeliers and lots of flowers, a whimsical environment.
To organize a perfect luxury wedding it is essential to have a wedding planner help. She knows how to mix the colors and all important elements, how to fill the spaces and get the luxury vibe you want.
In conclusion, there are many different wedding styles to choose from, each with its own unique charm and appeal. Whether you prefer the classic elegance of a traditional wedding, the whimsical enchantment of a fairy tale wedding, or the modern sophistication of an urban chic wedding, there is a style out there that will perfectly reflect your love story and personality.
Remember that your wedding day is a celebration of your love and commitment, and the style you choose should reflect that. Don't be afraid to get creative and think outside the box, and remember that the most important thing is that you and your partner feel happy and comfortable on your special day.
By exploring the different wedding styles available and finding the one that speaks to you, you can create a wedding that is truly unforgettable and uniquely yours. So, whether you're dreaming of a rustic country wedding or a glamorous black-tie affair, go ahead and start planning the wedding of your dreams – the possibilities are endless!