Steps When Choosing Your Wedding Venue
Steps When Choosing Your Wedding Venue is undoubtedly one of the most important steps for your wedding. You'll have to make your decision based on many factors. If you're a couple planning to get married soon and you're about to go venue searching, then this is for you. Here are ten factors to consider Steps When Choosing Your Wedding Venue.
Steps When Choosing Your Wedding Venue
Wedding Date and Number of Guests
Okay, so he has asked for your hand and you are eager to investigate the wedding plans, great news! You are very excited, a thousand things go through your head, styles, decorations, colours, music, flowers, decorations, and an endless number of ideas. Let's start at the beginning so as not to forget anything and keep a pattern.
I recommend that you sit down with your partner and think about the wedding date. Do you want a wedding in the spring, summer or perhaps autumn? There's also winter, why not? Every season has its charm and its advantages, of course. Once you decide on a date, the next thing to do is create a list of approximate guests. This is important when looking for Steps When Choosing Your Wedding Venue. Make sure that it has the capacity for your needs.
Religious, Civil, or Symbolic Wedding
Credit : Mas Positivo Photography
If you are a religious person and your dream is to enter the church dressed in white, the first thing to do is ask for the date you want. Keep in mind that religious weddings are very common for Spanish couples, and it is advisable to visit the parish priest a year before. Generally, the calendar of dates opens to the public at the beginning of the year, that is, if you get married in 2022 you have to ask for the date in the church in January 2021.
If your wedding is civil, be sure to ask for a date in the civil registry of your city and choose your witnesses.
For foreigners it is very common to celebrate a symbolic ceremony, they marry legally in their countries of origin and once they arrive in Spain; they choose a fictitious or symbolic ceremony. A master of ceremony will guide them for 30 minutes or an hour, the vows are recited, and the exchange of rings happens.
Some couples choose to include rituals like the binding, or even a candle ceremony. During the ceremony, a certificate could also be signed that has no legal validity. Then there is the kiss and the departure of the bride and groom from the ceremony already married.
Wedding Style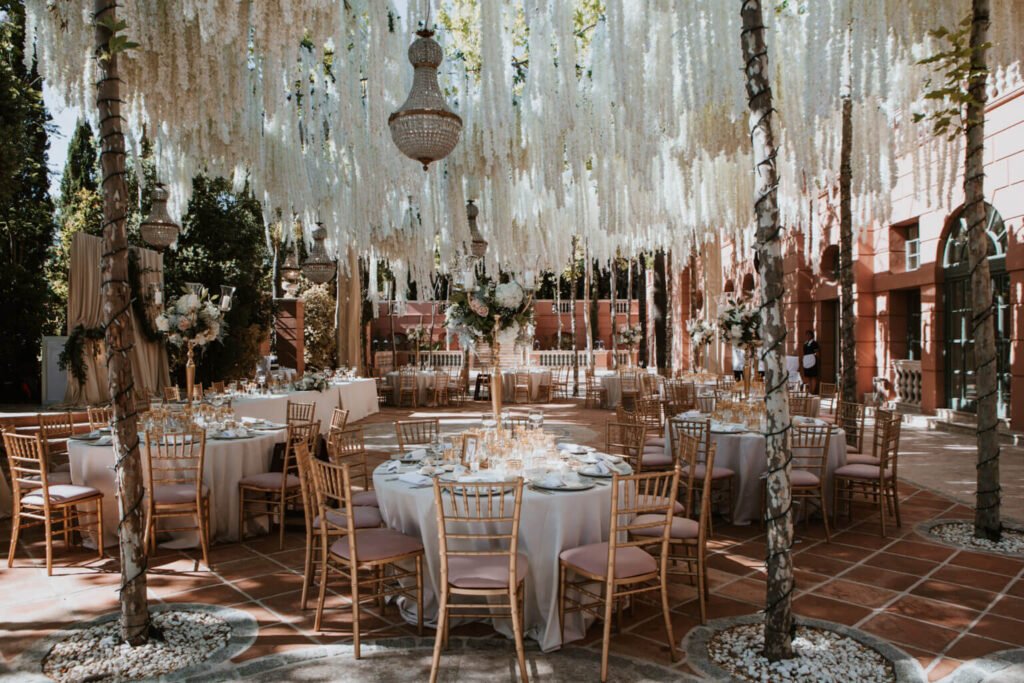 Credit : Mas Positivo Photography
Many couples rush to choose the venue before choosing the wedding style. I personally believe that it is important to define the wedding style and based on that to be able to rule out venues that do not fit the ones we are looking for.
For example, if you want a boho-chic wedding style and a color palette according to this style, we can definitely rule out rustic, traditional, romantic castles or very elegant venues. For a boho-chic style wedding, a beach venue is very good, especially if you include relaxed but chic furniture in your décor. You'll get a very bohemian space for the ceremony.
Follow this link if you want to know more about: The 10 most wanted wedding styles
The Venue
The first thing to highlight is the percentage that couples deposit on the venues. It may surprise you when you hear that this starts from 10 to 15%, but it can also reach 20%. Especially if the venue includes catering.
An important factor to know is if the venue has a Plan B and if you can hold the symbolic ceremony there or not. You should also find out if they have an agreement with a type of provider, such as the DJ, lighting, catering, or photographer.
If your dream venue is a beach club, keep in mind that the time to start your wedding is usually after 7 or 8 in the afternoon since beach clubs give priority to clients, and only once, they close can they celebrate weddings or events privately.
In hotels generally, you do not have privacy since there will always be other guests staying, keep in mind that some areas will be common and there is a risk that someone will be sunbathing in the hotel pool while you get married.
If you opt for a venue located on the beach, keep in mind that the beaches are public and that means that people may be sunbathing near where you are getting married.
If you want a totally private wedding, the best thing is to choose a villa, farm or an individual farm, in this way you can be sure that nobody outside your guests and suppliers, gossips anything.
Here you have the best wedding venues in Spain
The Lighting
Credit:Photography by Pablo Laguia | Source : Pinterest
Whichever venue you choose, it is important to consider the lighting since this is the key to having the most spectacular wedding photos. To have magnificent pictures, it is important that your venue looks dreamy with a wonderful atmosphere. Your venue should also have organized wide spaces. That way, your guests will feel freer and all the decorations, flowers, and lighting will look spectacular.
Wedding Logistics
It is important to define and calculate the distances when specifying the logistics. All providers need to have a guide and my recommendation is to try to find proximity between the church or place of the ceremony, venue, and hotels where your guests are staying. Sometimes the church is very close to the venue, and this saves you from having to pay for transportation for your guests.
I recommend that you choose a place that is not very far. A half-hour of travel is more than enough, remember that your guests are eager to enjoy your day and not to be traveling by bus for a long time. After the ceremony, they will be eager to taste the cocktail.
Take a look at our wedding services
Accommodation Yes or No?
There are many couples who are looking for a venue with accommodation for their guests, especially if it is a destination wedding. Keep in mind that guests who come from abroad do not know the area and ideally should stay in the same venue or near it.
On the other hand, there are couples who prefer to keep the venue a secret and do not want their guests to stay there, at least before the wedding. In this case, it is advisable to recommend hotels near the venue and provide transportation for your guests.
If you'll be staying at your venue with your guests, ask if they offer discounts for accommodation as this is quite common in hotels and your guests can enjoy 10 or 15%.
The Menu
Undoubtedly one of the most important steps, we want to offer excellent food and free drinks to our guests, although the choice of the menu can bring us some headaches. Most venues offer standard menus and are flexible when it comes to mixing. For example, the first course of menu number 1 with the second course of menu number 3 and so on, but beware that this may entail an extra price so ask well before choosing.
Making a personalized menu for you entails an extra expense since it means extra time for the venue to prepare something unique for you.
Some venues have their own kitchen and therefore do not allow external catering, in this case, you must choose what they propose. The venues that generally have their own kitchen are hotels, beach bars, restaurants, some private farms.
Time and Music Limitations
It is important to know that venues located in the city generally have noise restrictions after midnight, however, those further away do not have any limitation. Each venue works differently, and you have to know if they have limitations and a closing time. For example, beach bars usually have a license to open until 2 in the morning, however, hotels have interior rooms where you can continue with the party until 4 in the morning.
Infrastructure
Some of the specific aspects that we will consider when choosing the place will be the infrastructure it has, the accessibility, the location, the connections, or the capacity of the place. It is important that it has easy access for the disabled, is flexible with your assembly and disassembly plan, and has a capacity for all your guests.