Beauty, Ceremony, Ideas & Tips, Tips Wedding, Wedding, Wedding Anniversary, Wedding decoration, Wedding in Spain, Wedding Planning, Wedding Styles
How To Decorate Your Wedding In 5 Steps
The decoration of weddings has become important as the years go by. How To Decorate Your Wedding In 5 Steps. In general, the world has become a space that is more sensitive and aware of small things, concerned with details with the illusion of achieving beauty. Thus, weddings, as a representation of the bride and groom's life, deserve a bit of their essence, almost always reflected through the decoration. To guide you in choosing the right décor for your wedding, take into account these five vital steps that will allow you to achieve what you want more easily and achieve a very special decoration at the wedding.
How To Decorate Your Wedding In 5 Steps
Style of the bride and groom
Place and environment
Season of the year
Suppliers
Budget
Style of The Bride and Groom
Credit: Photo by India Earl
It is definitely the most important factor from How To Decorate Your Wedding In 5 Steps since you are the main architects of this great day and all its details. However, sometimes it is difficult for us to know which style we like or which one identifies us the most. Couples often make the mistake of playing several styles without focusing on any of them. For this reason, it is convenient to identify personal tastes, even more so if yours do not coincide. The best thing would be to find a middle ground and, above all, to learn to give in.
In this aspect, you must also bear in mind that you must decide the details of your decoration. Although those in charge of the space and the wedding planners can advise you, make it clear that your style must prevail in this wedding, regardless of the fashions or the tastes of third parties. Also, do not let your family and friends influence this aspect significantly, because it is easy for that to happen. With so many opinions behind you, you could end up modifying your own style.
Place and Environment
Credit: Photo by Sweetbella Decoration
Surely your style has influenced the choice of space without you noticing. Well, although the place has something to do with your personality, it will be difficult for it to fit 100% with you. Try to adapt to your venue when decorating your wedding, without forgetting that personal touch that will fill the space with life.
This can be encompassed in a more country environment, such as a farmhouse or farmhouse, or in the city, with hotels as a reference. The options are multiple and your wedding style will drink from the situation. Your venue is relevant, but it is closely related to the environment in which it is situated. Landscapes influence and change drastically if we are in a city or in the middle of nature. In this sense, designing a suitable decoration is a good idea to blend in with the panorama.
In the event that you are getting married in a country setting, take advantage of the new styles, such as boho chic or rural chic. They are so successful and open the doors to different personal variations. In them, elements typical of country contexts are used, spruced up with a sophisticated spark, which offer a cozy, personalized and tasteful feeling. In this type of decoration, soft and warm lighting plays a very important role.
For more elegant weddings in urban contexts, the decoration is more sober and checkered, with simple and isolated details that add serenity and a classic atmosphere that never ages. Vintage settings are also in vogue, bringing back elements from the past to decorate the scene, such as hippie vans, typewriters, vintage bicycles and pastel colors. In any case, environment, place and personal style form a whole that lays the foundation for the final decoration.
Season of The Year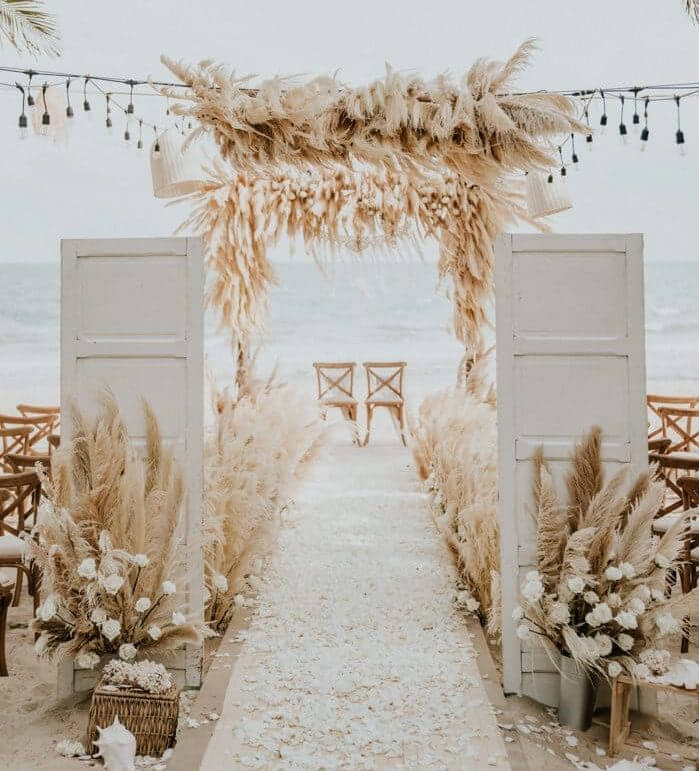 Credit : Photo by Hipster Wedding
It is vitally important to take advantage of the virtues that enhance each of the seasons of the year. Through them it is easy to imagine which elements will tilt the wedding decoration in one direction or another. Although the style does not have to be related to the season, each one of them has its own personality and allows us to revitalize the style we had in mind.
In winter, Christmas can contextualize the wedding, as well as the snow, the pine forests, the wooden houses in the middle of the mountain, the pine cones.
In spring, flowers can take on special prominence and fill the celebration with freshness and color, taking advantage of open spaces and landscapes full of life.
The summer like the spring, attaches particular importance to events in the outdoors, especially at night, with the scent of plants and trees, decoration dim and gardens filled with decorative elements.
In autumn, the colors take the lead again, this time warmer and perfect for placing furniture in open spaces between trees or in interiors with wood and vintage or country objects.
Suppliers
Credit: Amy Arrington Photography
You must take into account who your suppliers are, how they work and what freedom they will give you to prepare for the big day. Some spaces or wedding planners have rules that may clash with your style. In fact, many spaces have their own decorators and, although they can give you some freedom, they maintain bases that you may want to skip. Before that happens, inform yourself well and ensure your participation in the wedding, because everything must revolve around your decisions and personality.
Budget
When you are clear about how you want the decoration to be at the wedding, as well as the professionals who will help you meet your needs as much as possible, you will have to assess the suppliers that fall within the budget. It is important because the price will vary according to the themes or elements chosen for the event.
If you do not have a very high budget, resort to DIY (Do It Yourself) and make your own decorations. Although we always recommend professionals for these kinds of aspects of a wedding, as they should not be done lightly, it is always better to have some type of decoration to print personality to the wedding.
If, on the other hand, the economic aspect is not a problem for you, work on a decoration that reflects exactly what you are looking for, but do not fall into excess and the excessive combination of style due to lack of knowledge on the subject. In that case, it is always positive to have the advice of professionals, as long as they let you take the lead or, at least, actively participate.